Hosted &nbsp Cloud &nbsp Solutions: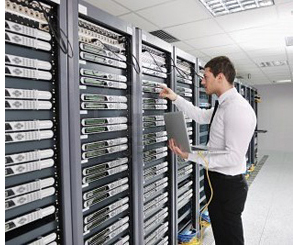 The Decision Builder suite of ERP software solutions offers you the choice of deployment using the traditional on-premise approach or a hosted "cloud computing" environment. The traditional on-premise deployment entails installing the application software and data base on the file server and network maintained in your office. The hosted "cloud computing" offering entails running the Decision Builder application that is maintained on a hosted server located in a secure data center accessed via the internet. Whereas both approaches offer benefits to the organization and end user, many industry experts are now saying that hosted cloud computing for ERP software is clearly the most advanced technology innovation in the application software industry during the last two decades.
Our Cloud Computing environment uses the latest technologies, high speed blade servers and up to date security tools and practices. Our Data Centers are managed 24/7 by staff with the highest level of certification in the industry, who perform infrastructure monitoring and provide secure data storage to offload these responsibilities from your business, allowing you to focus on running your business without having to worry about IT.
Technical and application support is available from a Fortune 500 level help desk service which provides support on a ZAAS platform, everything from A to Z, including Software (SAAS), Platform (PAAS) and Infrastructure (IAAS). Support is provided on a wide range of applications and their integration when required, unlike the specific services provided by just Software as a Service (SAAS). Whatever the issue is, call the Help Desk for support. Printer is not printing? Call the Help Desk.
Some of the benefits of utilizing the Decision Builder ERP solution in a Hosted Cloud Computing environment are:
•&nbsp&nbsp&nbsp Agility
•&nbsp&nbsp&nbsp Availability – Always Operational
•&nbsp&nbsp&nbsp Speed
•&nbsp&nbsp&nbsp Security
•&nbsp&nbsp&nbsp Green
•&nbsp&nbsp&nbsp Focus on Business not on Business Systems
•&nbsp&nbsp&nbsp Lower Total Cost of Ownership (TCO)
Agility
On the cloud companies use only the resources they need now. As their requirements change infrastructure resources can be rapidly adjusted to meet the need. The time spent on resource planning is eliminated, as well as the investment in unnecessary infrastructure for potential future requirements. More importantly if demand for resources unexpectedly rise, companies can react quickly, not missing opportunities.
Availability – Always Operational
Our Cloud solution provides a guaranteed uptime of 99.999%. Accessibility to your Decision Builder business system and information and all your other applications such as Microsoft Office is always available from anywhere, from any device with an internet connection. The data centre fully meets the needs of businesses with mission critical applications by ensuring only the highest levels of service delivery. It meets Tier I through Tier IV design standards, and supports the most stringent requirements for end-to-end redundancy on all systems including power, network, environmental and hosting infrastructure.
Lost time and lost business due to server down time is eliminated. Studies have shown that employee productivity increases when they have fingertip access to their information 24 hours a day, 7 days a week. Bad weather or fear of spreading germs won't keep people from achieving their goals as they can work from home as productively as in the office.
Speed
Your hosted system runs on the fastest blade server technology available, our systems typically run at speeds of 4x that of single server technology.
Security
When operating your Decision Builder ERP solution in a hosted environment your business data and information will be more secure and protected than it would be using an on-premise solution. The data centers utilizes the most powerful and up to date security tools and practices that are available in the industry – you will be able to piggy bag on the same security features being employed by fortune 500 companies, banks, financial institutions, and insurance companies. If all your applications on run the cloud, data can be protected much better because it never leaves your "walls". If an employee loses a laptop it will not have sensitive data on it as it is maintained on the secure cloud server.
Green
Our data centers use the most efficient power and cooling systems available. The newer data centers incorporate "below the floor" facility architecture that increases airflow by up to 30%, reduce cooling power consumption up to 60%, and prolong the rack equipment lifespan up to 5 years. The data centers use clean alternative energy power sources to provide redundancy and reliability. Green servers utilize the newest and most efficient blade server technology, effectively100% more efficient than single server technologies. Whenever possible 208 volt systems are used which use the least external power and produces the least "noise" thereby being the most efficient power platforms. The Decision Builder software is designed to eliminate paper reports as a matter of course. All transaction journals are available in history files to be viewed when required and to selectively print only when needed.
Avoid unnecessary travel and work from home. The Cloud server is always available and no one will ever have to go to the office to reboot the system.
Focus on Business not on Business Systems.
Our Cloud staff can replace your entire IT functions and eliminate internal IT costs. Operating your Decision Builder business system and other applications using a hosted deployment methodology you will eliminate the need for internal IT functions and internal IT costs. Backups are automated, updates and patches are automatically applied, antivirus protection is always kept up to date, data base administration is taken care of, day to day IT support is included with the Hosted service. As well, Business Continuity is assured with replication being provided with a hosted solution – Disaster recovery plans are in place. Integrating applications, our staff can take care of it.
Lower Total Cost of Ownership (TCO)
The TCO varies widely from one company to the next. Depending on the size of operations and how critical the system is to the success of the business are two examples of the many issues effecting the investment level of a system. While some companies may see only marginal cost savings, others might see as much as a 50% cost reduction, while studies have shown the average company will reduce costs by 30%.
With a hosted Cloud Decision Builder solution, you pay only a monthly subscription fee. The monthly fees is dependent on what version of the Decision Builder you wish to install, what other applications you want to include on the cloud, what support services you require and the number of users who are going to use the facilities. Once these factors are decided, Decision Software will provide a fixed quote, so you know the exact monthly cost of your Cloud solution.
The monthly cost of a cloud solution is also much easier to manage and budget. One single monthly cost, instead of many costs spread out inconsistently over time. Below lists some of the costs that are involved in an on premise solution that can all be managed by moving to the cloud.
•&nbsp&nbsp&nbsp Capacity Planning
•&nbsp&nbsp&nbsp Servers
•&nbsp&nbsp&nbsp Server OS
•&nbsp&nbsp&nbsp Upgrade Costs
•&nbsp&nbsp&nbsp Higher cost devices
•&nbsp&nbsp&nbsp Anti virus
•&nbsp&nbsp&nbsp UPS
•&nbsp&nbsp&nbsp Back up Hardware and Software
•&nbsp&nbsp&nbsp Back up tapes
•&nbsp&nbsp&nbsp Data Recovery
•&nbsp&nbsp&nbsp Server Installation
•&nbsp&nbsp&nbsp Leasing costs or interest
•&nbsp&nbsp&nbsp Server Warranty
•&nbsp&nbsp&nbsp Break/Fix Parts
•&nbsp&nbsp&nbsp Hardware Maintenance Fees
•&nbsp&nbsp&nbsp Business Insurance
•&nbsp&nbsp&nbsp Electricity/Server
•&nbsp&nbsp&nbsp Down time – reboots and updates
&nbsp&nbsp&nbsp&nbsp&nbsp&nbsp Employee costs
&nbsp&nbsp&nbsp&nbsp&nbsp&nbsp Lost business
•&nbsp&nbsp&nbsp Capital cost of Software
•&nbsp&nbsp&nbsp Periodic Licences
•&nbsp&nbsp&nbsp Maintenance fees
•&nbsp&nbsp&nbsp Time to deploy
•&nbsp&nbsp&nbsp Data base costs
•&nbsp&nbsp&nbsp Integration costs
&nbsp&nbsp&nbsp&nbsp&nbsp&nbsp -Syncing multiple applications
•&nbsp&nbsp&nbsp IT salaries and contracts
Return to Product Features