Managed &nbsp Print &nbsp Services:

Automate your mangaed print services contracts and cost per copy billings
Does your business provide Managed Print Services and Cost per Copy Billing, or would you like provide these servic

es? Ifyou do, the Decision Builder ERP software designed specifically for IT services companies will help you maximize theprofitability of these services by completely automating these functions and processes.
Quickly and easily enter the counts by serialized product for both black and colour copies or automatically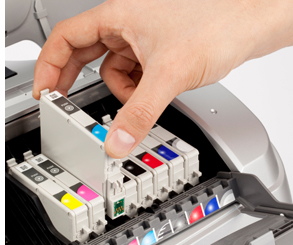 import these counts from your Managed Print Services application such as PrintSolv or Xerox Enterprise Print Services – then with a Single Mouse click produce all of your monthly Cost per Copy Billings for all Customers and all Serialized Printers and Copiers.
Integration with the Service Contract module will allow you to view the status of all Managed Print Services Contracts and view the profitability of these Contracts comparing revenue earned and costs incurred with drill down capability to individual invoices and service work orders. The Decision Builder ERP software will provide you with all of the tools and functionality to manage and run your business efficiently and effectively – complete automation of all job functions, information at your fingertips to make informed decisions, and the controls to ensure all operations are performed effectively.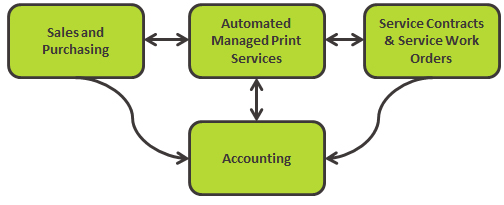 Highlights of the Decision Builder ERP Software include;
Sales and Purchasing
•&nbsp&nbsp&nbsp Serial Number and Warranty Tracking
•&nbsp&nbsp&nbsp Drop Ship Order Management & Processing
•&nbsp&nbsp&nbsp Integrated Automated Purchasing
Automated Managed Print Services
•&nbsp&nbsp&nbsp Automated Cost per Copy Billing
•&nbsp&nbsp&nbsp Integrate with MPS Applications to automate collection of Copy Counts
•&nbsp&nbsp&nbsp Manage and Track Start, End, and Copy Counts by Product and Serial Number for both Black and Colour
Service Contracts & Service Work Orders
•&nbsp&nbsp&nbsp Manage and Process Service Work Orders/Tickets
•&nbsp&nbsp&nbsp Technician Scheduling
•&nbsp&nbsp&nbsp Automated Recurring Contract Billing
Accounting
•&nbsp&nbsp&nbsp Integrated Accounts Payables, Accounts Receivables, and General Ledger
•&nbsp&nbsp&nbsp Integrated Cash Management & Cash Flow processing
•&nbsp&nbsp&nbsp Financial Reporting
Return to Product Features